Richards Rodriguez & Skeith's business and transactional lawyers are known for their creative yet practical approach to a client's everyday business needs and the high degree of personal attention furnished to clients through direct contact with our attorneys.
Many clients rely on us for ongoing outside general counsel services throughout a company's lifecycle, while others rely on our guidance on a transaction-by-transaction basis. Our core strength and experience is in supporting middle-market businesses with lean, focused teams of attorneys who craft value-added, tailor-made solutions to help our clients accomplish their business objectives.
---
Business Structuring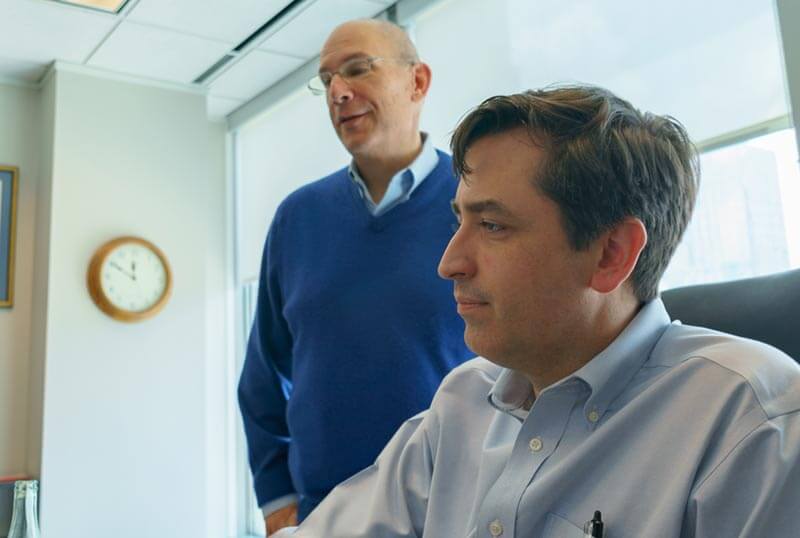 Richards Rodriguez & Skeith's attorneys advise clients on the structure, formation and operation of business entities like corporations, limited liability companies and partnerships. We can help by properly forming the initial entity structure and preparing the internal agreement that governs the operations of the business and the relationship between its owners.
In addition, the foundation of any business transaction is a solid contract that accurately and clearly reflects the parties' agreement.
Our attorneys assist clients by doing just that: We structure and negotiate the agreement between the company and its owners by artfully drafting the underlying contract in a clear and concise manner to solidify the client's position and protect the client's rights.
---
Business Contracts
We assist businesses to structure and negotiate key relationships with suppliers, distributors, sales representatives and customers. From master services agreements to independent sales representative agreements, Richards Rodriguez & Skeith's lawyers collaborate with clients throughout the negotiation process and see them through to a contract's execution.
Restructuring of Business Operations
Our attorneys are experienced in advising clients on the restructuring of business entities in order to minimize risk and streamline operations. Richards Rodriguez & Skeith can formulate a detailed, comprehensive plan for separating assets and centralizing management so that a company is in more advantageous position from an economic, cost-efficient and liability-protected perspective.
---
Private Equity and Debt Investing
Richards Rodriguez & Skeith can help a business obtain working capital from private investors by preparing and negotiating private placement offerings. Our team of experienced transactional attorneys can guide the company through the complex deal points and legal issues involved in private offerings, whether dealing with a private equity firm, venture capital firm or an angel investor.
Our firm represents business clients through all stages of their growth process, including the development and implementation of capital raising plans. In addition, our lawyers have extensive experience in preparing and administering private placement offerings to secure private investor capital.
Mergers and Acquisitions
Clients look to Richards Rodriguez & Skeith for guidance throughout all phases of a purchase, sale or merger transaction, from beginning to end. We strive to assist clients in understanding the deal terms of a transfer of ownership, including provisions found in nondisclosure agreements, letters of intent, and asset and stock purchase agreements.
Our lawyers approach transactions as a collaborative effort with the client, with a view toward achieving the client's legal and economic goals.
---
International Transactions
We have the capability to advise domestic clients on a wide range of international commercial transactions from outsourcing and software licensing to joint technology development agreements and franchises. In addition, our firm has represented and advised foreign clients in connection with a wide range of issues arising in the context of cross-border investments, wealth transfers and commercial transactions.
Our law firm is a member of Geneva Group International, a worldwide alliance of well-established and experienced accounting, consulting and law firms that are committed to providing clients with specialist solutions for their international business requirements. Through GGI, we are able to connect clients with local advisors who are well versed in particular international markets.
---
General Counsel
Our firm serves as outside general counsel to many middle market businesses—working directly with the management team of a business in order to assist with matters such as corporate governance, business policy, contract negotiation, employment-related matters, intellectual property and finance.
Our clients have immediate access to attorneys who understand the client's business operations and objectives, and who are prepared to promptly respond to the client's needs.
Corporate Governance and Compliance
With many large private and family-owned companies as clients, Richards Rodriguez & Skeith has a strong track record of advising directors, executive officers, senior management teams, controlling stockholders and other constituencies on corporate governance issues. We can assess a client's current corporate governance practices and assist in developing a best practices model for the client's particular business.
Our recommendations include best practices in management, advising on fiduciary responsibility and director duties, maintenance of governance documents, overseeing shareholder disclosure and meeting requirements, compliance issues and protecting directors against personal liability.
---
Richards Rodriguez & Skeith Business and Transactional Law Attorneys